2018 RAHS CONFERENCE
20th & 21st October 2018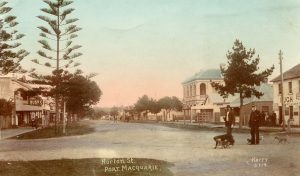 Bookings are now open for our 2018 Conference: Surveying the Past, Mapping the Present at the Westport Club in Port Macquarie.
The 2018 RAHS Conference is a wonderful opportunity to learn more about Port Macquarie, with local historians speaking about the experiences of the Birpai people, life on the early estates in the Hastings, and Port Macquarie's last convicts. Our keynote speaker is Dr Mathew Trinca, Director of the National Museum of Australia, who will discuss the very pertinent theme of 'History from the ground up'.
Attendees will discover new resources and techniques to help survey the past of your own local community and be inspired by historians whose research interests span surveyors' field books and explorers' notes, historical market research, women in business, and understanding the social, medical and domestic legacies of World War I. (Full program is available for download)
Attendees can also attend a range of other events during the weekend including:
Pre-Conference Workshop (Friday 19 October | Port Macquarie Library) 
From Governors' Wives to Sydney Harbour Bridge Builders: Amplifying the State Library of NSW sound archive via open-source and the machine
Welcome Reception (Friday 19 October | Port Macquarie Museum) 
This event will be hosted by thePort Macquarie Historical Society and provides an informal opportunity to view the award-winning Museum's significant collections and exhibitions
Walking Tour: Stories Behind the Graves (Saturday 20 October) 
This guided walking tour ofPort Macquarie's Second Burying Ground will explore the stories of Port Macquarie's famous and infamous residents.
Bus Tour: Chains and Milestones (Saturday 20 October) 
This bus tour will provide an overview of Port Macquarie's historic sites, maritime history and convict past.
Expressions of Interest: Innes Ruins Tour (Monday 22 October) 
Step back in time on this guided tour of the extensiveruins of a grand country mansion built by convict labour in the 1830s.
Post-Conference Workshop: Researching and Commemorating the Spanish Flu (Monday 22 October | Port Macquarie Library) 
The pneumonic influenza or 'Spanish flu' pandemic that circled the world in 1918–19 left few communities untouched. In this practical workshop, we review the bigger picture of the pandemic before considering how its impact might be commemorated locally.
To learn more about our Conference, including transport and accommodation, Port Macquarie's history and things to see and do, visit our Conference webpage.