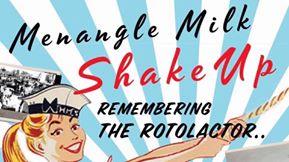 The Menangle Community Association Inc. plans to hold a public charity event called the 'MENANGLE MILK-SHAKE UP' on Sunday, 17th September, 2017.

The Event
Menangle was a private village of the Macarthur Family. The Macarthurs excelled in milk production through establishing a Creamery and the famous Rotolactor which is a 1950s state of the art milking carousel. The nearby railway line facilitated fresh daily milk supply to Sydney. With this event we want to bring back the memories of the heydays of milk production in the 1950s in the Wollondilly Shire. We will achieve this by providing history displays, market stalls, refreshments and music with the help of volunteers dressed in 1950s costumes. This will enable us to 'remember the Rotolactor'.
Our Aim
We are holding this event to create awareness for Menangle's historic value and its many rare and endangered buildings.
Through this awareness, would like to raise money for maintenance work essential to Menangle's unique buildings and structures.
We will also showcase the potential that Menangle possesses as a possible tourist destination and event space, conveniently located in a beautifully intact Australian countryside location, close to Sydney.